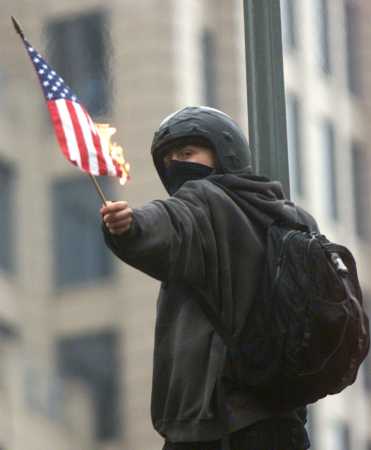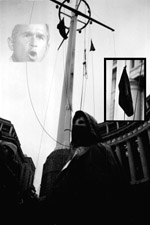 Due to the current quality (or lack thereof) of mass media, UWSP radicals have created this page to educate and inform students, faculty, and community members of world affairs, which are all too often spun, twisted, marginalized, or just plain left out of the mainstream media. Please read, comment, critique and/or analyze that which is presented in these pages. This grassroots production will only be a success if you help us by contributing your comments, suggestions, editorials, articles, and photos.
This page will be updated after noticeable radical and not-so-radical demonstrations occur, after the mass media fucks up or spins prominant news worthy events, or whenever we so desire. Please check back regularly or sign up for the updates (by clicking on the NET MIND button) so you'll know when new articles are added.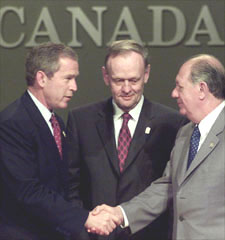 This month's issue of Freedom Watch concentrates on the events that transpired at the Summit of the Americas demonstration in Quebec, Canada. Radicals and liberals converged on Quebec April 20-22 to shut down attempts by 34 western hemisphere leaders to spread their toxic and undemocratic agenda in the form of the Free Trade Area of the Americas (FTAA). Please visit the articles page for news of the demonstrations, the editorials page for the written Declaration of Quebec by summit leaders, and the photos page for some heated pictures of the demonstrations.
In the Archives--Freedom Watch concentrates its coverage efforts on the demonstrations surrounding the Presidential Inauguration. Please visit the articles page for the full story and the Photo's page for radical pics of the demonstrations against "W" and the state.

Anarchism is a tendency in the history of human thought and action which seeks to identify coercive, authoritarian, and hierarchic structures of all kinds and to challenge their legitimacy -- and if they cannot justify their legitimacy, which is quite commonly the case, to work to undermine them and expand the scope of freedom.
--Noam Chomsky






Table of Contents
February 2000

FTAA background information